---
Public Engagement:
As a critical part of Indigo's mission, we have cultivated relationships with a broad range of community partners. This is how we ensure exposure and representation for people of color across the state and nationally. These engagements ensure visibility for our artists as vibrant contributors to the arts.
---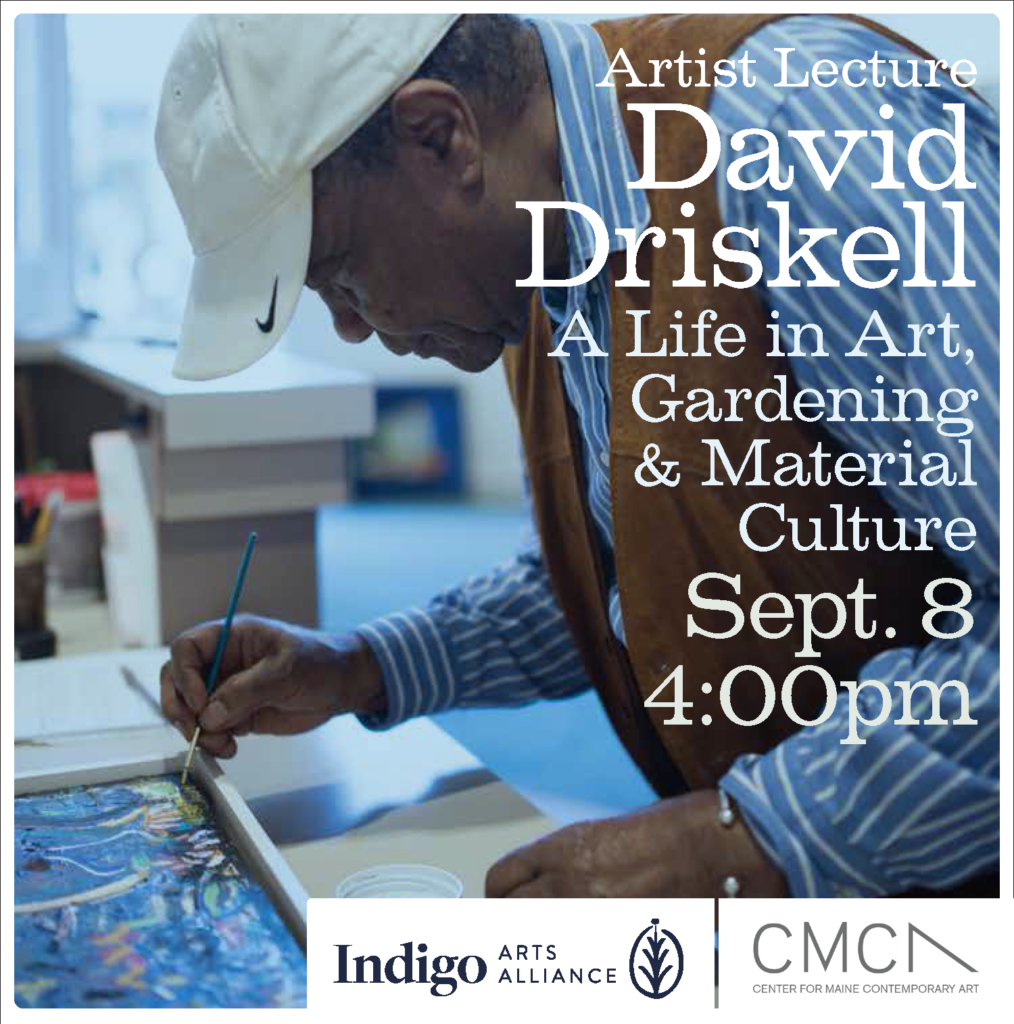 Indigo Arts Alliance and CMCA are proud to present David Driskell in conversation with Myron Beasley — A Life in Art, Gardening and Material Culture.
Sunday, September 8th | 4 pm at CMCA Rockland, Maine. $8 CMCA members, $10 non-members. Seating limited to 75. Register for Tickets Here!
Highly regarded as an artist, scholar, and curator, David Driskell is one of the world's leading authorities on African American Art. He has been the recipient of thirteen honorary doctorates and has contributed significantly to scholarship in the history of art on the role of Black artists in America. His paintings and collages reflect his personal vision and memory. Marked by the artist's abiding color sensibilities, his work bears the imprint of a turbulent era, a return to nature, and Driskell's synthesis of the European, American, and African art forms he knew firsthand.
Myron M. Beasley, Ph.D. is Associate Professor of Cultural Studies at Bates College. He is a scholar and international curator. His ethnographic research includes exploring the intersection of cultural politics, art, and social change, as he believes in the power of artists and recognize them as cultural workers; He has been awarded fellowships and grants by the Andy Warhol Foundation, the Whiting Foundation, National Endowment for the Humanities, the Kindling Fund, The Davis Family Foundation, the Ruth Landes Award from the Reed Foundation, and most recently Dorathea and Leo Rabkin Foundation for his ethnographic writing about art and cultural engagement.
---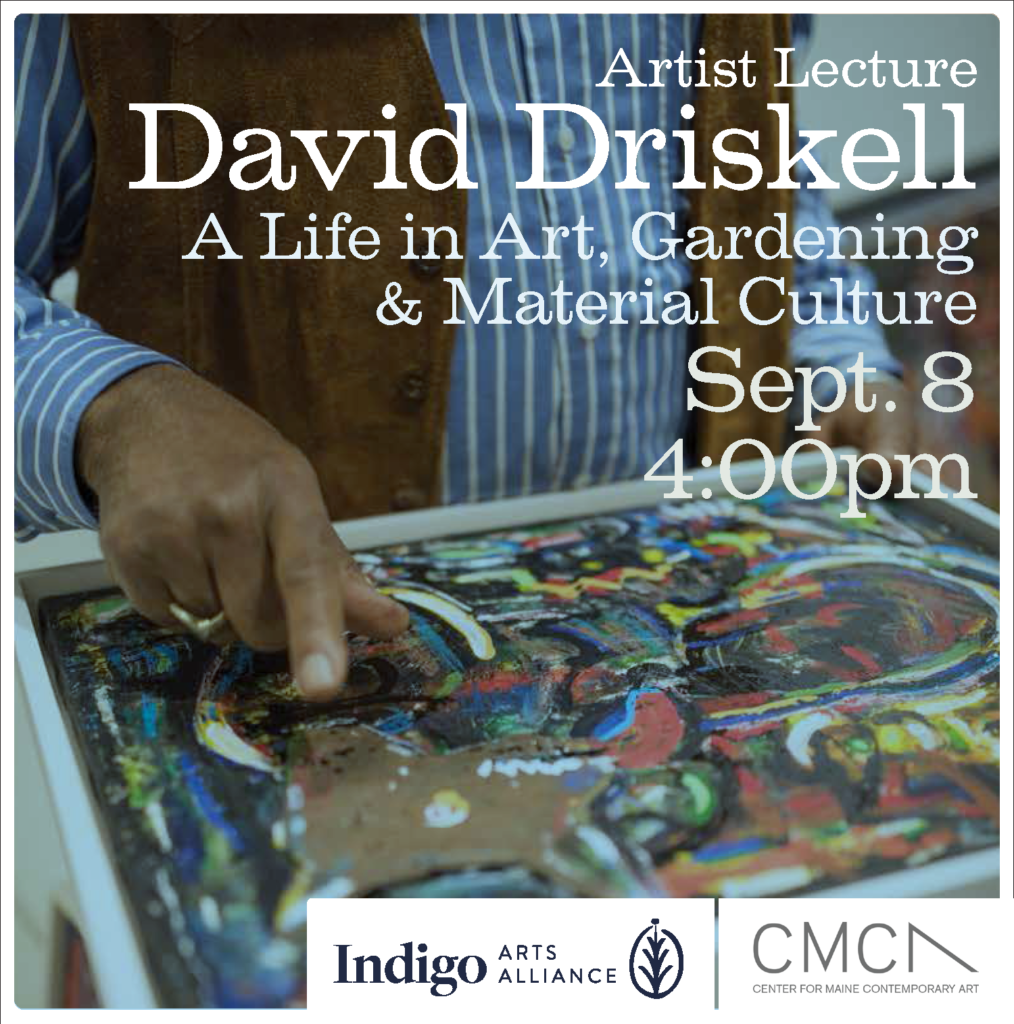 David Driskell, Born in 1931 in Eatonton, Georgia. He was educated at Howard University and received a Master of Fine Arts from The Catholic University Of America. In 1953 he attended the Skowhegan School of Painting and Sculpture in Maine. In 1961 he became a summer resident of Maine. He currently holds the title of Distinguished University Professor of Art, Emeritus, at the University of Maryland, College Park. In 1997, Driskell was awarded the President's Medal, the highest honor the University of Maryland bestows on a member of its faculty. In 1998, the David C. Driskell Center for the Study of Visual Arts and Culture of African Americans and the African Diaspora was founded to promote his scholarship and service to the University.
In December of 2000, President Bill Clinton bestowed the National Humanities Medal on Driskell. Trained as a painter and art historian, Driskell works principally in collage and mixed media. His paintings and prints have been featured in numerous solo and group exhibitions in galleries and museums throughout the USA, including the Corcoran Gallery of Art, the Baltimore Museum of Art, the Oakland Museum and the Whitney Museum of American Art. He has been the recipient of several foundation fellowships among which are the Harmon Foundation, three Rockefeller Foundation Fellowships and the Danforth Foundation.
---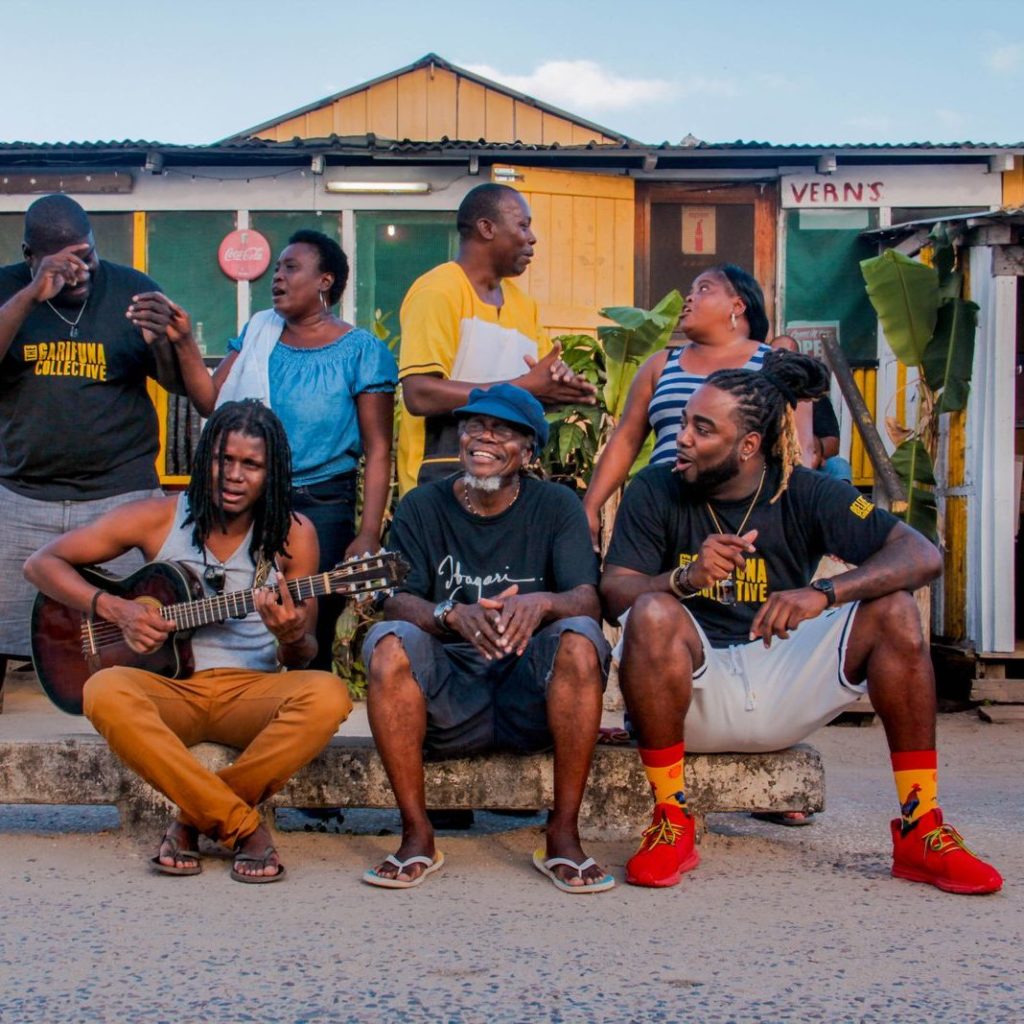 In honor of SPACE GALLERY'S 17th birthday, we are excited to co-present Belize's Garifuna Collective! A FREE community event. Thursday, August 22, doors open at 7:00! Register for Tickets Here!
The Garifuna Collective is a pan-generational musical group from Belize that has been performing the music of the Garifuna people for more than 20 years. If you're unfamiliar, The Garifuna are descendants of Afro-indigenous people who survived a slave shipwreck off St. Vincent and were later exiled to Honduras and Belize.
The Garifuna Collective has performed in over 30 countries across 5 continents. This will be their first trip to Maine! Their critically acclaimed album, Wátina, was a recipient of the Womex and BBC World Music Awards and voted by Amazon as the "#1 World Music Album of All Time" (besting albums by Bob Marley, Celia Cruz, Ravi Shankar, and others). o-presented with Space Gallery, the show is an incredible and rare opportunity to hear the music of the Garifuna people.
---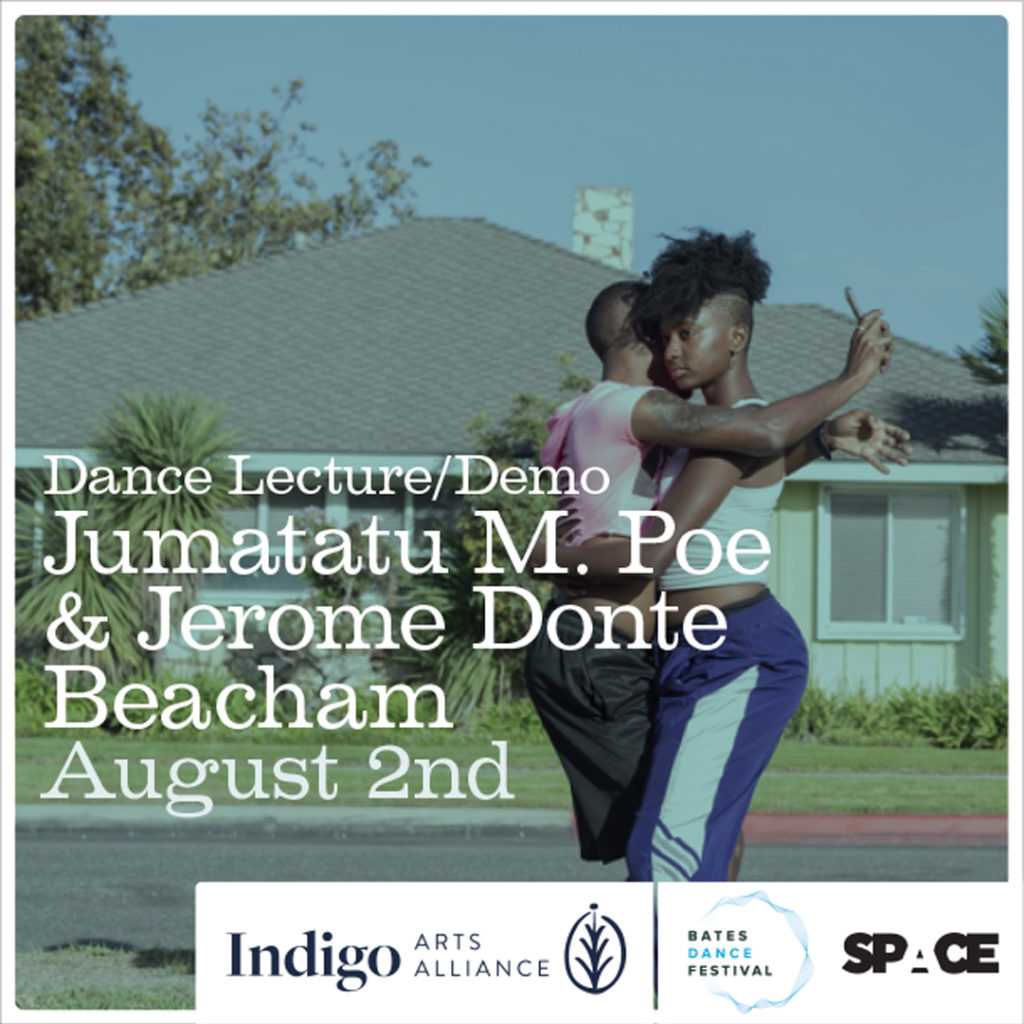 Dance Lecture/Demo with Jumatatu M. Poe & Jermome Donte, August 2, 4 pm at Indigo Arts Alliance in partnership with Bates Dance Festival and SPACE Gallery.
jumatatu m. poe and Jerome Donte Beacham's Intervention is the part performance, part public action designed to provoke dialogue about Black queer life in public space. Centered around J-Sette performance and culture, this work is free and open to anyone who wishes to follow it through the streets of Portland. The walking performance begins at 6 pm in two groups: one will start at Indigo Arts Alliance (located at 60 Cove Street) and one will start at Blackstones (located at 6 Pine Street). Both will culminate at SPACE in a celebration with a live DJ set by Liz Rhaney. A second performance will take place in Lewiston on August 3rd as part of the Bates Dance Festival offerings.
Presented in partnership with the Bates Dance Festival.
---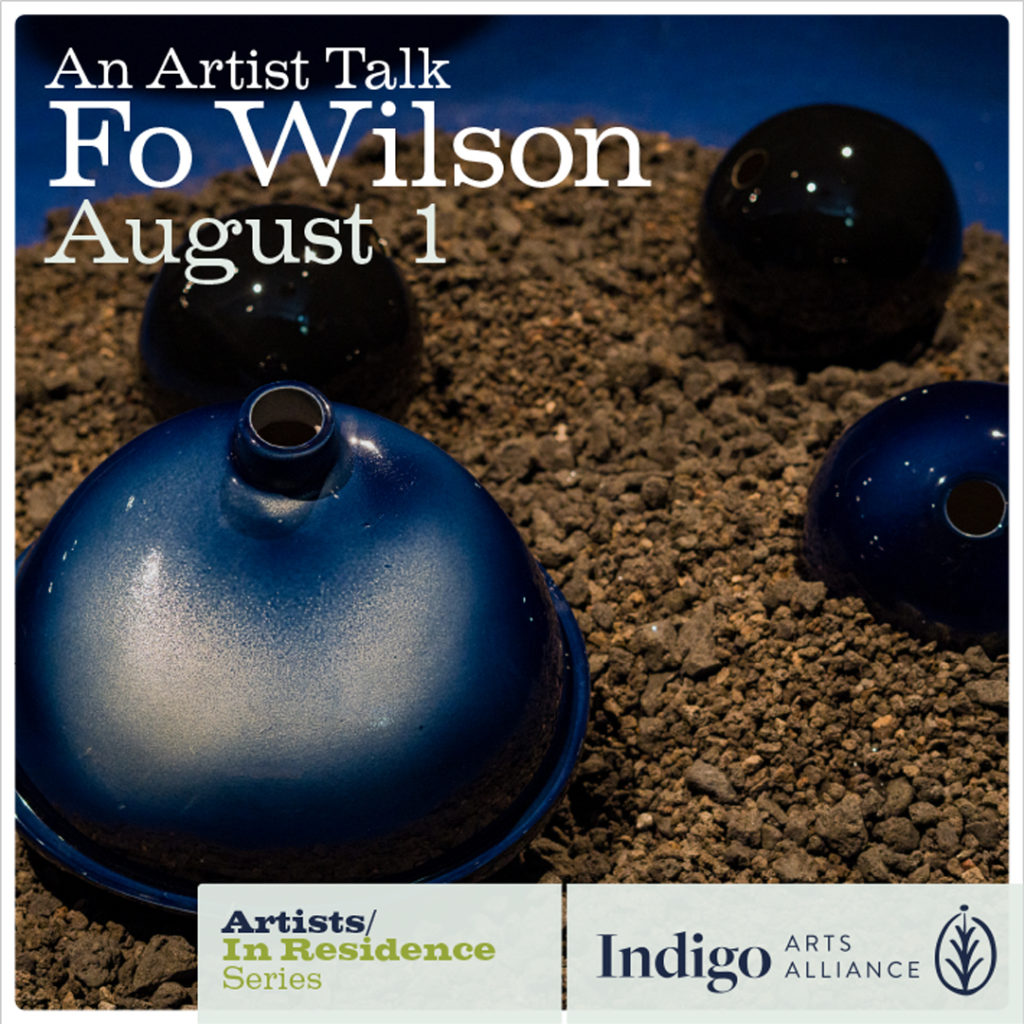 Artist Talk with Fo Wilson, August 1, 7 pm, at Indigo Arts Alliance 60 Cove Street, Portland, Maine. A community conversation, free and open to the public.
Wilson will discuss using speculative fictions as a strategy in her work and practice. Focusing on two recent projects, dark matter & the eliza cabinet project, she will talk about how she mines history and archives for use as artistic material and positions the Black imagination as an essential element in Black survival and self-determination through an Afrofuturist framework.
---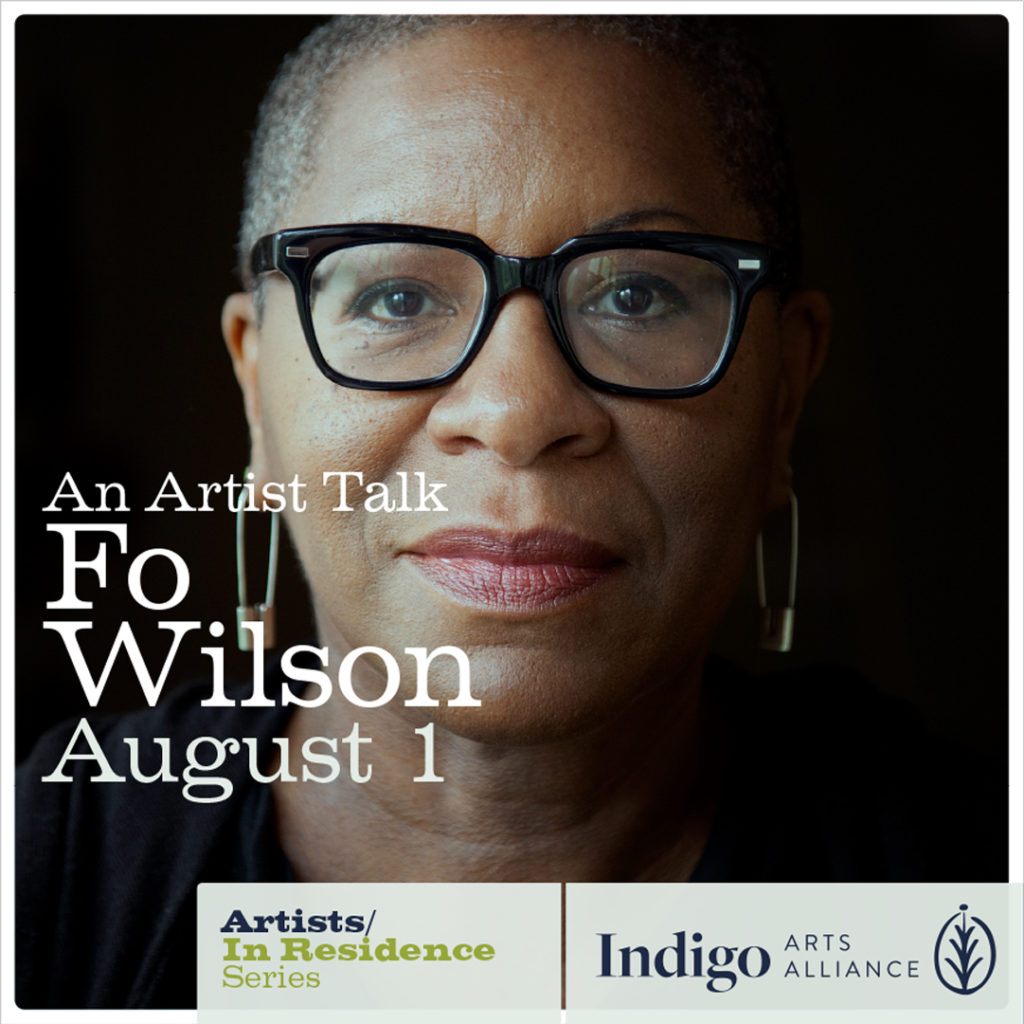 Folayemi (Fo) Wilson is an object and image-maker whose work celebrates Black femme representation and the Black imagination as a technology of resistance and self-determination. Her work explores the Black Atlantic experience though sculptural and multimedia installations presenting speculative fictions that reference history integrating inspiration from American vernacular architecture, literature and science fiction, using original sculpture, found objects, archival media, sound, and video. Her process utilizes her training in art history and critical theory employing the archive and other research methods to mine history for use as material in her creative practice. Wilson earned a MFA in Furniture Design from the Rhode Island School of Design with a concentration in Art History, Theory & Criticism and is an Associate professor at Columbia College Chicago. Her design work is included in the collection of the Cooper Hewitt National Museum of Design. She is on the board of the American Craft Council and was honored as a 3Arts awardee in 2015.
---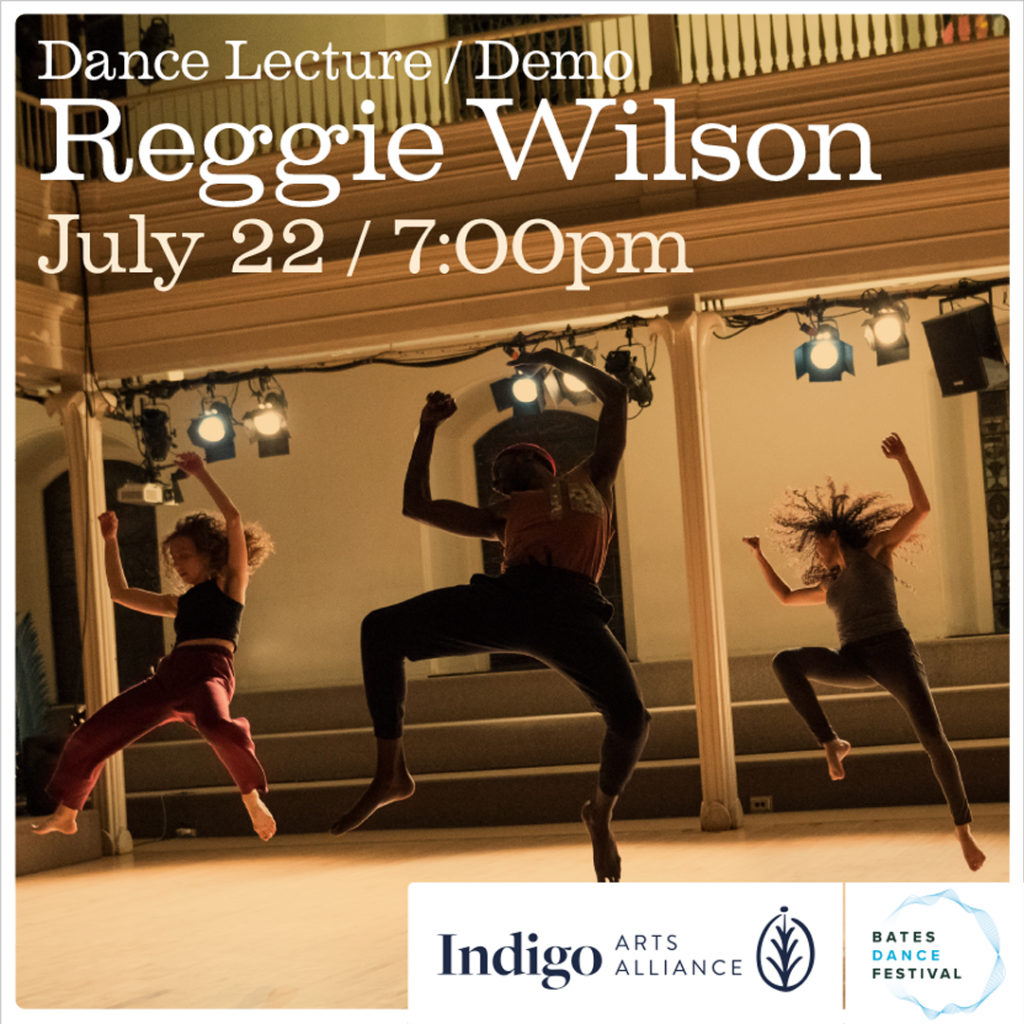 An Inside Dance conversation with internationally renowned choreographer, Reggie Wilson in partnership with Bates Dance Festival. July 22, 7 pm at Indigo Arts Alliance, 60 Cove Street, Portland
Join us for an informal discussion with lecturer and choreographer Reggie Wilson about his work. Co-hosted by Bates Dance Festival and Indigo Arts Alliance, this FREE event is part of BDF's Inside Dance series.
In this lecture, Wilson breaks-down elements of the Ring Shout, the arguable beginning building block of the Black Church, for audience participation and reconstruction. He speaks to how the Ring Shout has served in the naming of his company and in his work and research by discussing his movement analysis of elements of post-modern dance and African kinesthetic genius over time and space.
---
2019 Inaugural Events
Indigo Arts Alliance launched in May of 2019 with two groundbreaking events: Black, Brown + Indigo film series, and The Welcome Table. Friends, family, and supporters worked tirelessly to make these events happen. We honor their work by listings these past events here.
---
Our First Event in collaboration with SPACE538:
New Voices from the Diaspora, A Film Festival Showcasing the work of filmmakers from across the African Diaspora took place on, May 3rd-5th
Films shown were selected in consultation with members from Maine's African immigrant community to ensure relevance for our local residents. It featured films by African-American, Caribbean and South American makers as well.
Over the course of the 2-day festival, there were 5 blocks for films: 1 for kids shorts, 2 shorts series, and 2 features, plus 1 scholar-led talk and 1 workshop for local filmmakers with a guest director.
---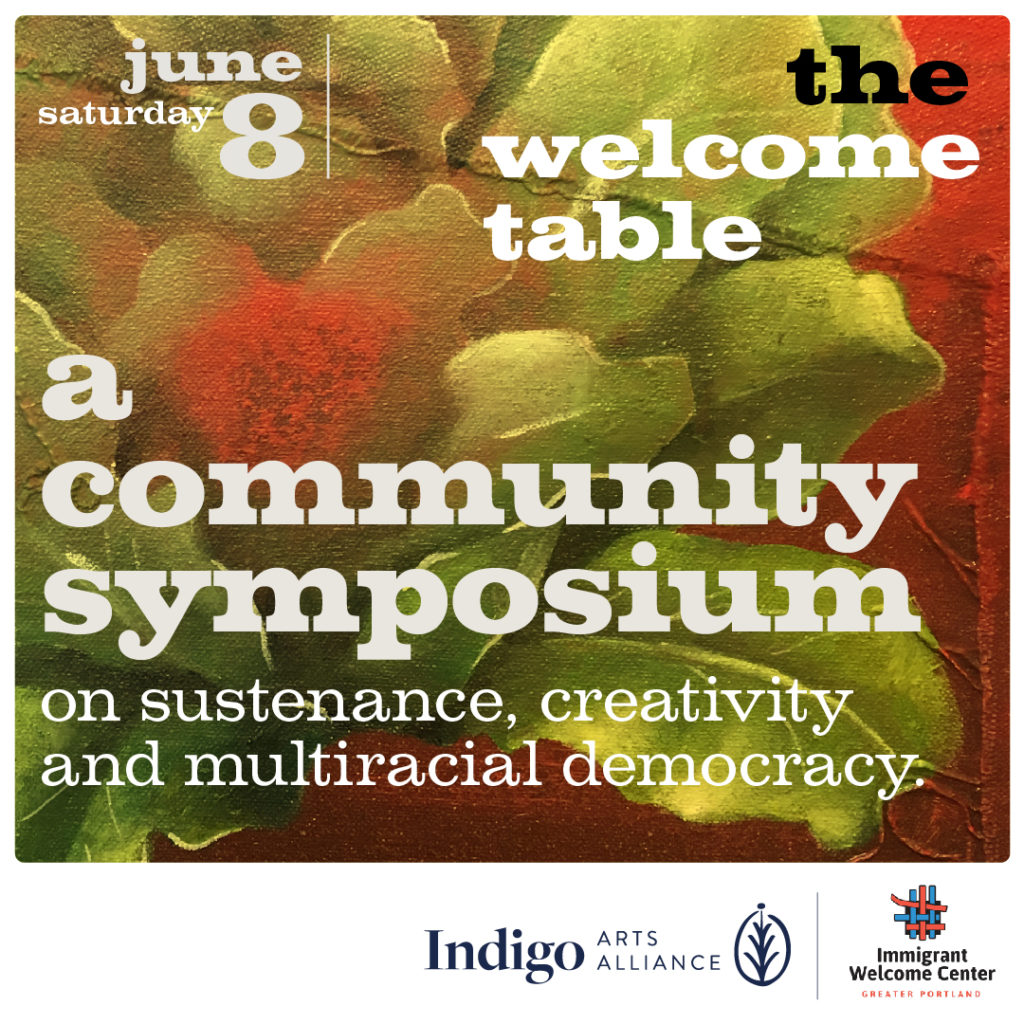 Our Second Event is a collaboration with The Immigrant Welcome Center on June 8 at 60 Cove Street in Portland, Maine
The Welcome Table: A Community Symposium on Sustenance, Creativity and Multiracial Democracy. Establishes Indigo's commitment to artists and communities of African descent as an essential part of the meaning of a healthy, multiracial society.
An intergenerational gathering celebrating the cultural traditions of the African Diaspora and Indigenous Peoples. IAA will bring together scholars, activists, religious leaders, artists, culinary specialists and members of the public to explore the links between culture and spirituality in national and international community building.
---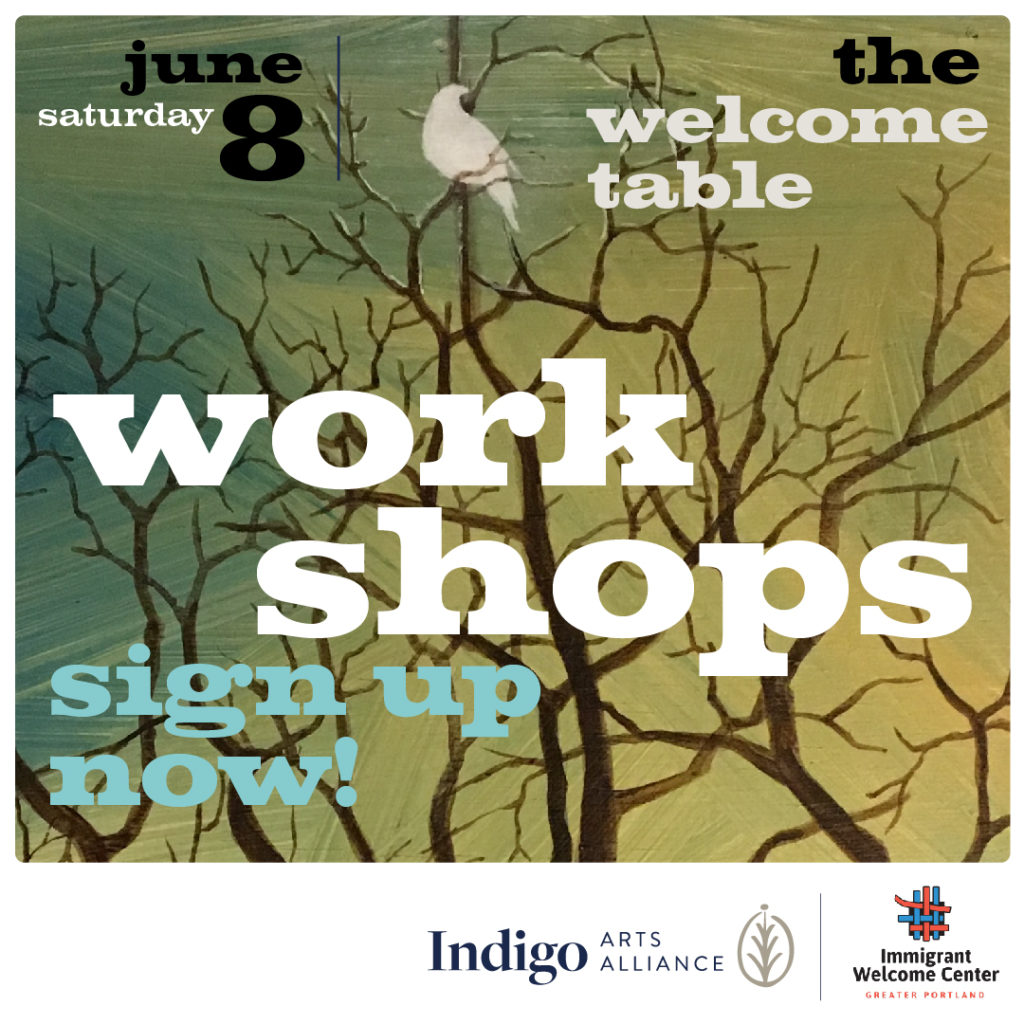 Art, Music, Dance, Conversation
The programming will feature lectures, symposia and public conversations on the cultural histories, traditions, and wisdom of diverse Maine-based and international communities. ALL community members can participate in teacher-led arts workshops in Printmaking, Dance and Music, and enjoy a live performance by ViVa and the Reinforcements.
The culminating event of the day will be a community meal for upwards of 100 people. Prepared by cultural activists and ritual leaders from Salvador Bahia, Brazil, Moderated by Scholars who will explain the significance of the foods prepared and the importance held for spiritual renewal as literal and figurative sustenance in our African Diasporic travels across the waters.
---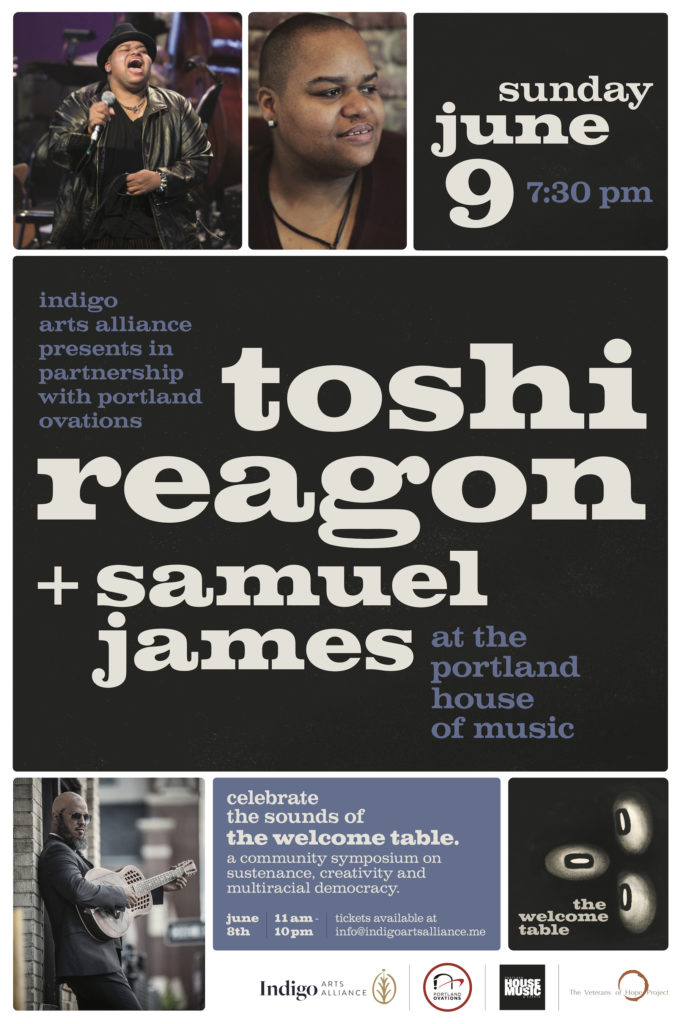 Toshi Reagon + Samuel James at Portland House of Music – June 9 at 7:30 pm.
A Very Special concert has been added on Sunday, June 9th, Featuring Toshi Reagon and Samuel James. Both Nationally acclaimed singer/songwriters musicians.
Toshi Reagon is a one-woman celebration of all that's dynamic, progressive and uplifting in American music. She has moved audiences of all kinds with her big-hearted, hold-nothing-back approach to rock, blues, R&B, country, folk, spirituals, and funk.
---