Welcome to the Indigo Arts Alliance Art Residency. We are delighted that you are participating in one of our vital programs which is to provide a space to build global communities by bringing together artists from diverse backgrounds of the African Diaspora to engage in their creative process, participate in arts enrichment programs and to serve as both mentors and mentees. We exist to provide you space and time to focus on, and further develop your craft. The handbook provides some essential information regarding your stay in Portland during your residency. Please do not hesitate to let us know how we can make your time here even more creative and productive.

Myron M. Beasley, Ph.D
IAA Residency Chair

Daniel Minter
IAA Artist Director

Residency Program

In addition to its remarkable natural beauty and Maine's history for being a haven for national and international artists, the IAA Residency will provide flexible and dynamic studio space and an opportunity to connect with Portland's creative community. In recognition of the continued lack of support for Black artists world-wide, the IAA residency is an occasion to give back in dialogue and exchange between artists of African descent and other underrepresented communities of color.

IAA Residency is open to a panoply of creative production. Foremost, we serve our communities by providing exposure and access to national and international professional artists. The residency aims to create an occasion for artists of African descent working in a variety of disciplines to build and engage with the Maine community through mentoring regional emerging Black artists. By connecting the invited artists to local artists of color, we help our artist community through working opportunities, critical feedback, relationship building, and increased awareness of creative practices and institutions.
The core imperative of IAA program is to establish a robust and dynamic experience through creative production and intellectual engagement.

The unique factor of the IAA residency is mentoring. We believe firmly that mentoring of artists and underrepresented artists, in particular, is essential to creative development and growth. We consider mentoring to be a generative dialogic exchange between and among artists. We define mentoring broadly and thus can be achieved through a variety of actions including a one on one dyadic approach (pairings established through conversation with IAA staff and the artists) to workshop intensives for distinct communities of color in the state of Maine and other public presentations. We do suggest that public talks given by visiting artists at IAA be given an additional stipend. We aim to provide a space for Black artists to engage in robust discussions and interrogations of art and art making that would inspire and affirm. There is not one selection process for selecting mentees however it will be a result of conversations between the visiting artist and the residency committee.

It is essential for the organization to develop a plan of documentation of the residency program. Documenting the visiting artists helps archive our history and will also provide information (data) for fundraising opportunities. Items included in such a plan might consist of requiring the artists to participate in audio (video) recorded interview, visual documentation of art actions, and others. The archive will also be placed on IAA's website.
The Studio Space
The IAA space is an arts incubator with generous workspace and modern facilities enabling the creative work of visual artists, performance artists, music composition and creative writing. The resident will have 24-hour access to a flexible private 3000 square feet studio space in the new 4,000 square ft. facility. The studio space contains basic furnishings, a projector and wifi and can be easily transformed for work needs and public engagement. The studio was purposely designed to be adjustable to oblige art making. IAA through collaborations with other creative/art spaces could accommodate unique equipment needs. The facility also includes a kitchen.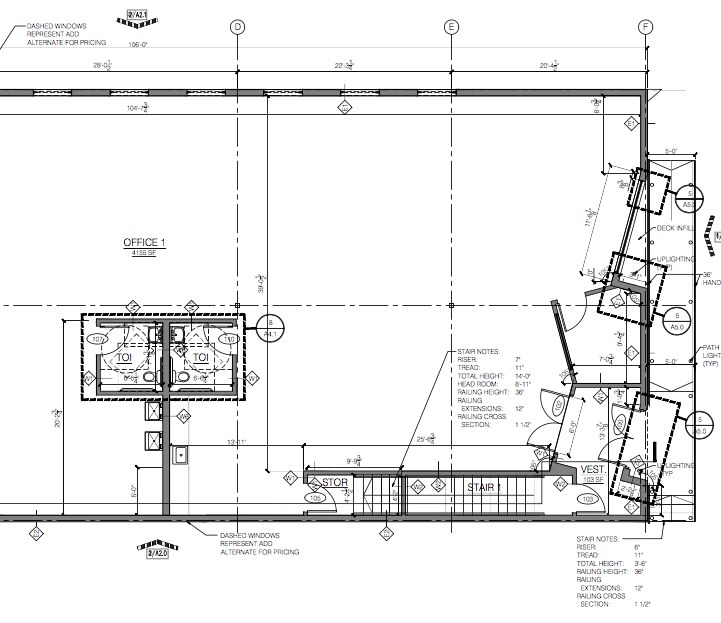 Arrival & Departure

While IAA will cover your travel, it will be the responsibility of the artists to make travel arrangements. We would expect that the artists to forward specific arrival times with IAA and housing location.
IAA is located at 60 Cove St. Portland, ME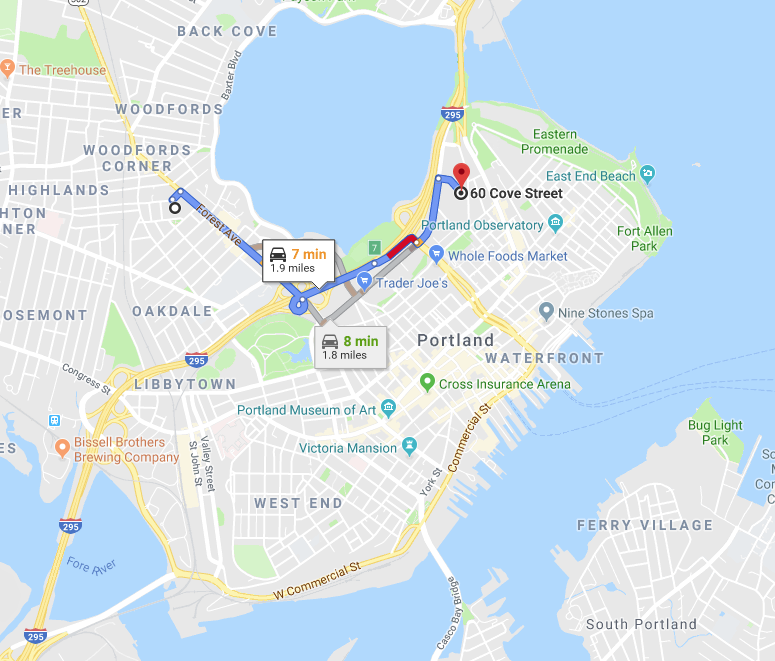 IAA is located in Portland which is 2.5 hours from Boston and 5 hours from New York City
*Major Airlines serve the Portland International Jetport (PWM)
*Amtrak links Portland and Boston
*Bus service to Portland provided by Greyhound Bus Lines
*Hourly shuttles between Portland and Boston (Logan Airport and South Station ) by Concord Bus Lines.
Shipping & Mailing information
Plan ahead if you require materials for specialized techniques that may not be available in Portland, Maine. You may bring supplies with you or ship supplies from mail order sources; please make sure your packages do not arrive more than one week before your arrival.
By US Post Office
Your Name
c/o IAA
PO Box 3652
Portland, ME 04104
By UPS, FedEX, or other commercial delivery service:
Your Name
c/o IAA
20 Cove St
Portland, ME 04104
You can also have item sent to your housing location in Maine.

Emergency Information
Emergency: 911
Non-emergency: 207-874-8400
Hospitals
Maine Medical Center
22 Bramhall St
(207) 662-0111
Mercy Hospital – Fore River Campus
175 Fore River Pkwy
(207) 879-3000
Portland Fire Department
380 Congress St
(207) 874-8400
Portland Police Department
109 Middle Street
207-874-8479
Urgent Care and Medical Services
ConvenientMD Urgent Care
191 Marginal Way suite A
Portland, ME 04101
(207) 517-3838
Intermed
180 Park Ave #1
Portland, ME 04102
(207) 774-0348
Maine Medical Center Urgent Care Plus
335 Brighton Ave
Portland, ME 04102
(207) 662-8111
Planned Parenthood – Portland Health Center
443 Congress St 2nd Floor
Portland, ME 04101
(207) 797-8881
Pharmacy
CVS Pharmacy
510 Congress St
Portland, ME 04101
(207) 774-4525
Walgreens Pharmacy
290 Congress St
Portland, ME 04101
(207) 774-0344
Walgreens Pharmacy
127 Marginal Way
Portland, ME 04101
(207) 771-5631
Policies & Procedures
Indigo Arts Alliance is an artists' community committed to nurturing and supporting the creative spirit. This mission can be realized only in an atmosphere of mutual trust and respect, and any actions that diminish such an atmosphere will neither be condoned nor tolerated. As such, IAA reserves the right to revoke an offer of admission/terminate a residency-in-progress if it is determined that an individual's behavior does or may jeopardize the quality of experience for other residents, our collaborations with affiliate organizations, or our community relations. *
DRUG-FREE/ALCOHOL POLICY
It is the policy of the Indigo Arts Center is a drug-free environment.
SEXUAL HARASSMENT POLICY
Indigo Arts Alliance will not tolerate sexual harassment of or by members of its community. Sexual harassment is illegal and is defined as unwelcome sexual advances, requests for sexual favors, and other verbal or physical conduct of a sexual nature when such conduct has the purpose or effect of unreasonably interfering with an individual's work performance or creating an intimidating, hostile, or offensive environment. Any reports of sexual harassment should be directed to the Director of Indigo Arts Alliance.
SAFETY & SECURITY
Although it is generally safe here in Portland, Maine, crime can take place just like anyplace else. Please maintain awareness of your surroundings and lock up studio facilities when finished.
Art Supplies and Local Services
The Art Mart
517 Congress St.
207.775.4244
Artist & Craftsman Supply Portland
540 Deering
207.253.7724
PortFiber
50 Cove St.
207.780.1345
Portland Pottery Inc
118 Washington Ave
(207) 772-4334
JOANN Fabrics and Crafts
1064 Brighton Ave
Portland, ME 04102
(207) 871-0030
Micheals
490 Payne Rd
Scarborough, ME 04074
(207) 883-8419
Z Fabrics
558 Congress St
Portland, ME 04101
(207) 773-1331
Art Galleries
Cove Street Arts
67 Cove Street
(207).772-2693
Greenhut Galleries
146 Middle Street
(207).772.2693
Able Baker Contemporary
29 Forest Avenue
(917).545.6235
Speedwell Projects
630 Forest Avenue
(207).805.1835
ICA at MECA
522 Congress St,
Portland, ME 04101
(207) 699-5029
Portland Art Gallery
154 Middle Street
Portland, ME 04101
(207) 956-7105
Grant Wahlquist Gallery
30 City Center 2nd floor,
Portland, ME 04101
(207) 245-5732
New Fruit
82 Parris St,
Portland, ME 04101
New System Exhibitions
82 Parris St,
Portland, ME 04101
Partner Art Spaces
Factory 3
115 St James St,
Portland, ME 04102
(207) 358-9412
Running with Scissors
250 Anderson St
Portland, ME 04101
(207) 831-5682
Pickwick Independent Press
536 Congress Street, #201
Portland, ME 04101
Open Bench Project
971 Congress St
Portland, ME 04102
(207) 329-8606
Wolfe Editions
61 Pleasant St
Portland, ME 04101
(207) 228-4602
PortFiber
50 Cove St
Portland, ME 04101
(207) 780-1345
Portland Pottery
8 Fox St
Portland, ME 04101
(207) 772-4334
Auto Mechanic
Cumberland Avenue Garage
122 Cumberland Ave
Portland, ME 04101
(207) 775-0493
Hamilton Service Station Inc
205 Park Ave
Portland, ME 04102
(207) 773-1930
Bicycle Maintenance and Sales
CycleMania
65 Cove St
Portland, ME 04101
(207) 774-2933
Gorham Bike & Ski
693 Congress St,
Portland, ME 04102
(207) 773-1700
Port City Bikes
82 Parris St
Portland, ME 04101
(207) 775-6125
AllSpeed Cyclery & Snow
127 Marginal Way
Portland, ME 04101
(207) 878-8741
Book Stores
Longfellow Bookstores
1 Monument Sq
Portland, ME 04101
(207) 772-4045
Print Bookstore
273 Congress St
Portland, ME 04101
(207) 536-4778
Sherman's Books and Stationary
49 Exchange St
Portland, ME 04101
(207) 773-4100
Yes Books
589 Congress St
Portland, ME 04101
(207) 775-3233
Green Hand Bookshop
661 Congress St
Portland, ME 04101
(207) 253-6808
Coffee
Coffee Me Up
221 Cumberland Ave
Portland, ME 04101
(207) 536-1279
Bard Coffee
185 Middle St
Portland, ME 04101
(207) 899-4788
Coffee By Design
1 Diamond St
Portland, ME 04101
(207) 874-5400
Hilltop Coffee Shop
100 Congress St
Portland, ME 04101
(207) 780-0025
Arabica Coffee Shop
2 Free St
Portland, ME 04101
(207) 899-1833
Tandem Coffee and Bakery
742 Congress St
Portland, ME 04102
Speckled Ax
567 Congress St
Portland, ME 04101
(207) 660-3333
Cultural and Educational
University of Southern Maine
96 Falmouth St, Portland, ME 04103
Maine College of Art
522 Congress St, Portland, ME 04101
Portland Public Library
5 Monument Way, Portland, ME 04101
Portland Museum of Art
7 Congress Square, Portland, ME 04101
Space Gallery
538 Congress Street
(207).828.5607
Creative Portland
84 Free Street
(207).370.4784
CMCA
21 Winter St
Rockland, ME 04841
(207) 701-5005
The Greater Portland Immigrant Welcome Center
24 Preble St 3rd floor
Portland, ME 04101
(207) 517-3401
Colby College
4000 Mayflower Hl
Waterville, ME 04901
(207) 859-4000
Bates College
2 Andrews Rd
Lewiston, ME 04240
(207) 786-6255
Abyssinian Meeting House
75 Newbury St
Portland, ME 04101
(207) 828-4995
Portland Trails
305 Commercial St
Portland, ME 04101
(207) 775-2411
Malaga Island
Malaga Island
Phippsburg, ME
Gilsland Farm Audubon Center
20 Gilsland Farm Road
Falmouth, Maine 04105
(207) 781-2330
Coastal Maine Botanical Gardens
Rollins Hale Dr
Boothbay, ME 04537
(207) 633-8000
Grocery Stores
La Bodega Latina Grocery Store
863 Congress St
Portland, ME 04102
(207) 761-6661
Sun Oriental Market
626 Congress St
Portland, ME 04101
(207) 772-8675
Hong Kong Market
945 Congress St
Portland, ME 04102
(207) 772-8688
Veranda Asian Market
695 Forest Ave
Portland, ME 04103
(207) 874-8001
African Super Market
44 Washington Ave
Portland, ME 04103
(207) 409-4085
Safari Grocery & Gifts
30 Washington Ave
Portland, ME 04103
(207) 805-1219
Whole Foods Market
2 Somerset St
Portland, ME 04101
(207) 774-7711
Trader Joe's
87 Marginal Way
Portland, ME 04101
(207) 699-3799
Hannaford Supermarket
295 Forest Ave
Portland, ME 04101
(207) 761-5965
Portland Food Co-op
290 Congress St
Portland, ME 04101
(207) 805-1599
Rosemont Market & Bakery
88 Congress St
Portland, ME 04101
(207) 773-7888
Laundry
Squeaky Clean Laundromat
64 Washington Ave
(207) 761-4355
Lookin Good Laundromat
292 Congress St
(207) 772-6676
Liliana's Laundry
111 Congress St
(207) 772-3444
Places of Worship
First Parish in Portland, ME Unitarian Universalist
425 Congress St
Portland
The Cathedral of the Immaculate Conception
307 Congress St
Portland
First Assembly of God
243 Cumberland Ave
Portland
Temple Beth El
Conservative Synagogue
400 Deering Ave
Portland
Green Memorial AME Zion Church
Methodist Church
46 Sheridan St
Portland
Omar Mosque
Back Cove
978 Washington Ave
(207) 741-2117
Maine Muslim Community Center
118 Anderson St
(207) 797-6626
Williams Temple Church of God in Christ
266 Terrace Ave
Portland, ME 04102
(207) 774-5044
Etz Chaim Synagogue
267 Congress St
Portland, ME 04101
(207) 773-2339
Post Office
United States Postal Service
125 Forest Ave
(800) 275-8777
Restaurants
Baharat
91 Anderson St
Portland, ME 04101
(207) 613-9849
Izakaya Minato
54 Washington Ave
Portland, ME 04101
(207) 613-9939
LB Kitchen
249 Congress St
Portland, ME 04101
(207) 775-2695
Tu Casa
70 Washington Ave
Portland, ME 04101
(207) 828-4971
OTTO Pizza
225 Congress St
Portland, ME 04101
(207) 358-7870
Ramona's
98 Washington Ave
Portland, ME 04101
(207) 956-7194
Forage Market
123 Washington Ave
Portland, ME 04101
(207) 274-6800
A&C Grocery
131 Washington Ave
Portland, ME 04101
(207) 329-4314
Thrift Stores
Material Objects
500 Congress St # 1
(207) 774-1241
Find
16 Free St
(207) 699-4285
Haberdashery Resale Clothing Co.
615 Congress St
(207) 747-4153
Little Ghost
31 Forest Ave
Portland, ME 04101
(207) 773-8290
Pinecone + Chickadee
6 Free St
Portland, ME 04101
(207) 772-9280
Weekend Vintage
184 State St
Portland, ME 04101
(207) 808-8562
Portland Flee-for-All
585 Congress St
Portland, ME 04101
(207) 370-7570
Portland Architectural Salvage
131 Preble St
Portland, ME 04101
(207) 780-0634
Rentals: Car/ Bike/Skies/Snowshoes/Kayaks
CycleMania Bicycle Shop
65 Cove St
(207) 774-2933
Portland Gear Hub Bike School
Non-Profit Organization
85 Anderson St
(207) 553-4360
Gorham Bike & Ski Bicycle Shop
693 Congress St
(207) 773-1700