Intrinsic to IAA's guiding principles is a commitment to community-building. IAA is an engaged member of both the global Black arts community and the local community of Portland, Maine. In the heart of Portland we have built a home, an audience, and a springboard for our efforts. The local and international partnerships we are building along the path to fulfilling our mission provide the strength that comes of many hands and many voices working toward a common goal. We could not be more grateful to those who have supported us with resources, recognition, collaboration, and teamwork and IAA is proud to be aligned with the excellent work of these businesses and organizations.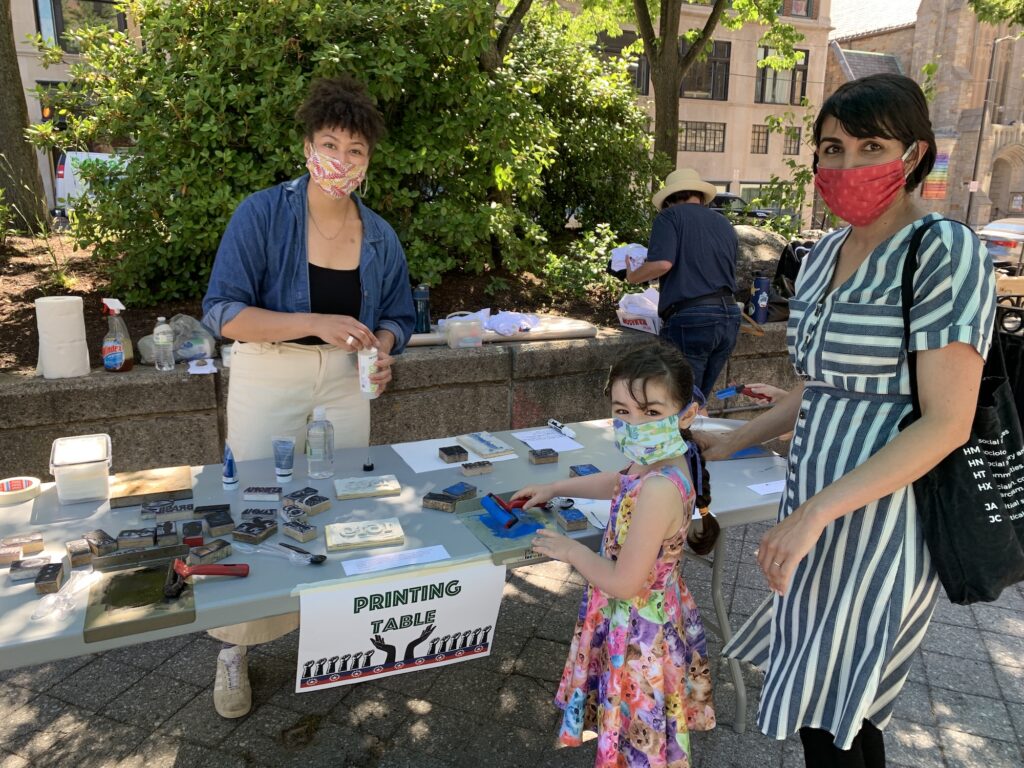 Corporate Alliance Philosophy
Corporate Alliance is a selective program. IAA is a small, young, grassroots organization nevertheless having a tremendous impact. Our energy and resources are narrowly focused on supporting our mission through programming – IAA's marketing efforts must reflect only our highest vision; our relationships must be true collaborations. As a Black-led organization accountable to the Black and Brown artists whose voices and whose work are at the core of our mission, it is critical IAA remains a safe space, with full creative freedom and independence in our decision-making. Our Corporate Allies are companies with which we are proud to affiliate our brand and our mission, who share our values, use their influence and resources to better our communities, and who work side-by-side with us as we do the important work of promoting social justice through the arts.
Corporate Alliance Criteria
The ways in which a business demonstrates an alignment with IAA's mission include:
An established commitment to supporting the community, as evidenced through corporate messaging, sponsorship, and philanthropic giving.
A reputation for abiding by ethical standards as demonstrated by public recognition and internal accountability.
A corporate culture that supports the movement for Black lives and demonstrates a commitment to anti-racism through a solidarity statement and sustainable tangible actions toward racial equity.
Corporate policies that include opportunities to amplify the voices of Black and Brown artists and leaders.
Ways to Get Involved
Outcomes of Corporate Alliances
IAA seeks alliances and partnerships that will have a profound benefit for both organizations. Our Corporate Alliance Program participants will contribute to the health and sustainability of Indigo Arts Alliance, allowing us to continue on our rapid trajectory. And our Corporate Allies benefit through:
Making an Impact
A healthier community for their customers and staff that celebrates racial equity, includes a space for Black and Brown voices, and one that promotes the creation of artwork that tells the stories from which our society will be strengthened.
Inspiring Others
The ability to increase the visibility of IAA's work and of our artists among new audiences, to promote their partnership with IAA through their own channels, and opportunities for employees to volunteer at events and deepen their connection to IAA and our work.
Demonstrating Commitment
The opportunity to inhabit their stated values of equity, diversity, and inclusion.
Together, we will work toward our mutual goal of building a more humane, inclusive, and just world.
For more information, please contact us at info@indigoartsalliance.me