Help Us Activate Our Mission
In response to the COVID-19 pandemic, the Federal Stimulus CARES Act suspends limitations in 2020 for donors who itemize contributions made to charitable organizations as well as allowing non-itemizers to use a "universal deduction" to itemize up to $300 in 2020. Every donation helps Indigo continue to thrive and serve its community of diverse artists, and Arts enthusiasts.
Indigo Arts Alliance relies on your generosity to support artists from across the African Diaspora who are courageously committed to expressing original ideas and thought leadership via their creative practices. The impact of your gift is profound and will make a huge difference in helping us grow our artist residency, seminars, and celebrations of Creativity + Courage. Since your donation will support our mission, it is 100% tax-deductible.
---
Indigo Arts Alliance Support
Inaugural Indigo Donor: Pledge a yearly sustaining gift for five years giving at $10,000 and above. Your donation will be earmarked to help ensure the operations of the organization or/and support the services of our mission.
Community Champion Donor: Gifts of $5,000 or more.
IAA Diaspora Sponsor : Gifts from $500 – $5,000.
There are multiple levels of giving that will support our mission that include the support of residency stipends for artists in residence and mentees, public scholarship workshops and community engagement events as well as the capital and operational costs, equipment and materials. Your generous contribution can also take the form of a gift of stock, a gift by will, or trust. All of these options will be carefully handled by our philanthropy specialist.
Gifts of Stock
Please notify Indigo Arts Alliance that you will be making a gift by emailing us at info@indigoartsalliance.me
Please instruct your financial advisor to use the following delivery instructions when making the transfer:
Broker: NFS/CFN
Account: Indigo Arts Alliance Corp
DTC # 0226
Acct # B3S738113
For more information on donating gifts of stock, please see this PDF.

Please also remember to ask if your employer has a matching gift program. Thank you for your support.
Gifts By Will
Your will, when it is drafted by your lawyer, is hand tailored to incorporate your decisions. A bequest in your will to Indigo Arts Alliance is exempt from the federal estate tax and the Maine estate tax. The following suggested forms of bequests are examples and can be adapted by you and your lawyer to meet your specific intentions:
Specific Bequest
Residuary Bequest
Contingent Bequest
Gifts By Life Insurance
Gifts By Trust
Charitable Lead Trust
---
Grant & Foundation Support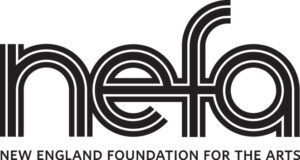 Indigo Arts Alliance is supported by the New England Foundation for the Arts through the New England Arts Resilience Fund, part of the United States Regional Arts Resilience Fund, an initiative of the U.S. Regional Arts Organizations and The Andrew W. Mellon Foundation, with major funding from the federal CARES Act from the National Endowment for the Arts.
National Endowment for the Arts
Maine Arts Commission
Carter Foundation
Crewe Foundation
Davis Family Foundation
Horizon Foundation
Maine Community Foundation, People of Color Fund
Maine Humanities Council
Maine Initiatives, Grants for Change
Maine Partners for the Americas
Morton Kelly Foundation
Onion Foundation
Rabkin Foundation
Sam Cohen Foundation
Virginia Hodgkins Foundation
Business Sponsors
Allagash Brewing Co.
Coffee by Design
Cport Credit Union
Lee Auto
Matchstick Communications
Portland Downtown
The Via Agency
Community Partners
Angela Adams
Cove Street Arts
Creative Portland
For Freedoms/50 States Initiative
The Immigrant Welcome Center
Knack Factory
Maine College of Art
Martin's Point Health Care
Portland House of Music
Portland Museum of Art
Portland Ovations
Sea Bags Maine
Space538
The Telling Room
Veterans of Hope Project
The Indigo Arts Alliance is a member of Creative Portland, Common Field, Creative Capital, The Maine Association for Non-Profits, Alliance of Artists Communities.