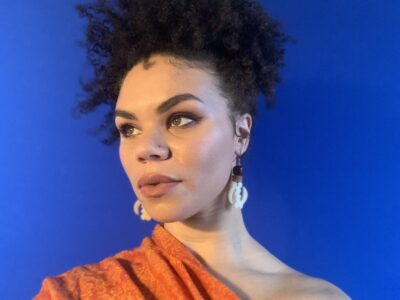 VIVA
February 1 - February 28, 2021
VIVA is multi-ethnic, multilingual and multi-talented! Pre-pandemic she led several bands at once. Lead singer of a Latin Jazz fusion band, as well as a 90s throwback cover band, and a percussionist/trombonist with a ska group while simultaneously managing a successful modeling and acting career. Despite the changes we are all reckoning with, Viva continues to be a big bang in a small package and when she hits the stage it is with dancing feet and antifacist values on her sleeve.
As a child, Viva was exposed to a robust variety of music from Cuban salsa to 90s pop to chamber orchestra and the great American songbook. She made her stage debut with musical theatre in high school. She began singing with a small jazz combo at 21 years old and directed her first performance a year later. After time recording in studio and abroad, Viva assembled an elite team of jazz musicians for the premiere of her band Viva & the Reinforcements. Since then, the group has played hundreds of events in dozens of cities across the continents.
Viva The Sensation is her own band now, performing with tracks she's carefully arranged, recording the instrumental parts herself, and focusing entirely on music that feels decadent, juicy, and full. She hopes for the return of a society with live music and when it comes, Viva The Sensation will be at the center: brazenly laughing, dancing, and fighting injustice for all the world to see.